It has come to our attention that there has been a recent increase in phishing e-mails being sent to our network. The most prevalent of these phishing e-mails are ones impersonating Rackspace, our third-party e-mail provider. These e-mails state that if you do not "click here", your account will be deactivated or your password will expire and you will be locked out of the system.
These messages are meant to scare you into not thinking twice about clicking the link they provide. However, once you click this link and enter your information, they've received access to your account.
PLEASE NOTE: Rackspace will NEVER send you an email regarding your password expiring or your account becoming inactive. The DLC Head Office team controls your mailbox and, as such, the only way your mailbox would be shut down by Rackspace is if your account has become compromised and spam is being sent out unbeknownst to you. Outside of that scenario, you should never receive an email regarding your account, except for a quota alert simply stating if your mailbox is almost full. Even those emails may be fake though and its best to reach out to DLC support before taking any actions.
Please be very careful when clicking links within e-mails and ALWAYS check if you're unsure whether it be with the DLC Support Team or the sender in question.
Here are some common examples of these types of e-mails we've seen in the past: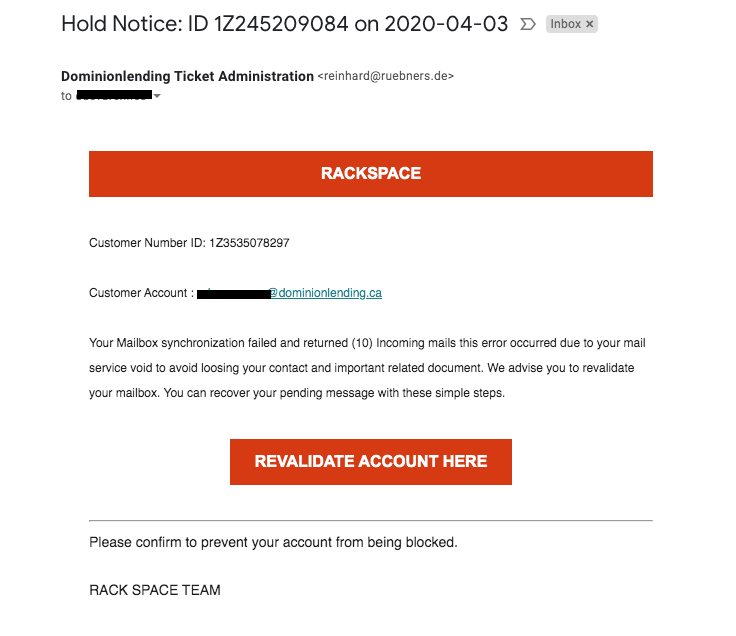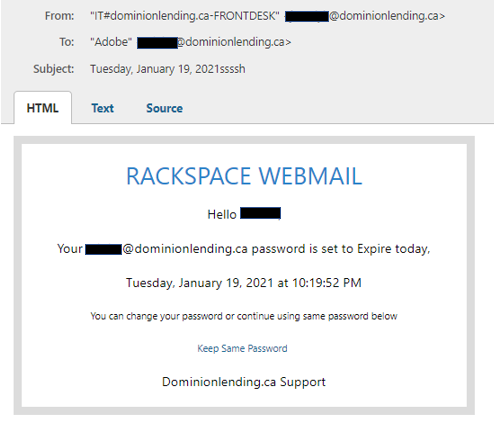 There are various ways you can avoid being a victim of spam messaging. The most important, is to always be cautious when opening your e-mails. Spoofing and phishing e-mails will often contain words that evoke emotion or quick action, such as: Flagged, Violation, Urgent, Reactivate Account, Scheduled for Deletion, Cancel Deactivation, Mailbox Full and Disabled.