The following steps will guide you through updating your profile picture on the DLC intranet. This picture will be displayed inside the national directory, My Mortage Toolbox App and also on your website if you're using the default banner.
The first step is to login to the Intranet at www.dominionintranet.ca . From there follow the screenshots below.
Click on "My Account Settings": > Photo Tab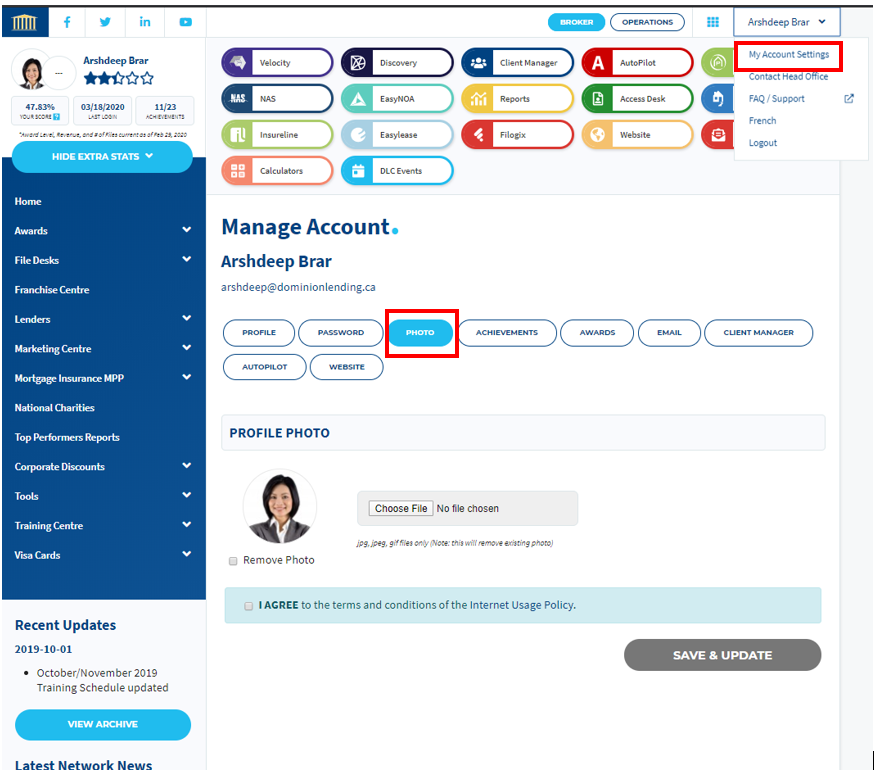 Then click on "Choose File" to select your photo and then Agree to the terms and conditions and click "SAVE AND UPDATE"
Once you Click Save and Update, it will take you to the "Photo Cropper" where you can crop your picture if it is too big. Don't

click on Save option yet without cropping the picture as it won't save the picture.



Click on the picture and hover the mouse over the picture to crop it. You will be able to crop and choose the size using the little squares around the picture as shown below:


You can scroll Up down to crop the picture using the little squares.

Once done, Click on Save option

Once you upload your Photo, it will show on your website in 4-6 hours.
Please note that we only support jpg, jpeg, and gif files. You cannot upload files in the format of PNG or others.
If you are still experiencing problems to upload your picture, send us a support ticket at support.dominionlending.ca
For Ideal Picture for DLC Intranet and MMT app, check the support article below:
https://support.dominionlending.ca/hc/en-us/articles/360044728174-My-Mortgage-Toolbox-Contact-Information-and-Picture
If you get an error that your picture is too big, you Need to resize your photo.
You can resize it using this link below.
https://support.dominionlending.ca/hc/en-us/articles/231242568-How-Can-I-Crop-A-Photo-Or-Image-
You can also check the article below to check some common errors in Picture Uploads.
https://support.dominionlending.ca/hc/en-us/articles/217111197-My-photo-won-t-upload-